<![if !vml]>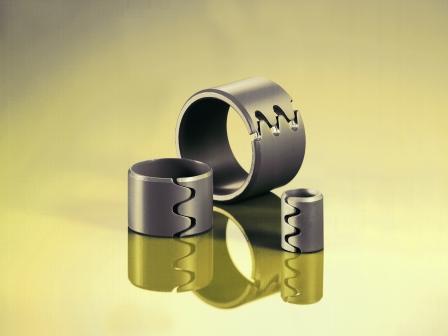 <![endif]>CONNEX Spring Bushings, made of high grade spring steel, have been used for years by a variety of manufacturers in industries such as farming, construction, mining, forestry and many others. When used in conjunction with hardened shafts or bolts, spring bushings are suitable for high pressure pivot points where oscillating or slow rotational motion occurs under extreme conditions and high specific bearing pressure. As a rule, the bushings are used without lubrication. Being a wear part, the ease of replacement is an advantage, particularly in the field where down time can be costly.
Often, spring bushings replace hardened solid bushings for economical reasons because they are easy to fit and harmful stresses in the component are avoided.
Where noise reduction is a consideration, CONNEX Spring Bushings with grease grooves and holes are increasingly requested. Lubrication and higher precision improve bearing life.
The spring bushing is manufactured oversize so that the resulting ID is correct when inserted into the component bore on assembly.
Application of Connex® Spring Bushings
Properties of the Connex® Spring Bushings
Seating Capacity/Insertion Force
Bearing Load Calculations for Connex® Spring Bushings
Connex® Spring Bushings Form 1...cold rolled with finished ends- Material: AISI 6150
Connex® Spring Bushings Special Options