Properties of the Connex Spring Bushings
The toothed slot produces a nearly closed surface in the slot area similar to that of a solid bushing. Generally, there is no need to position the slot in relation to the load.
Because of the CONNEX Principle, the seating capacity of the spring bushing is greatly increased in the housing bore.
Harmful stresses, seating and assembly problems associated with solid bushings can be avoided. Insertion and pressing out are easily performed.
The bushings have a high resistance to wear because they are produced from chrome-vanadium spring steel AISI 6150.
For increased precision and quality, CONNEX Spring Bushings can meet a closer tolerance by having the ID machined.
Grease grooves and grease holes can be added to the bushings where required.
Hardened steel shafts are recommended for use in CONNEX Spring Bushings with the bushing being the wear part and easily replaced, preserving the load carrying component.
The bushing is generally cost-effective based on its purchase price and assembly cost.
Special features can be added to the CONNEX Spring Bushing to meet requirements of specific application.
Precision Spring Bushings, Form 3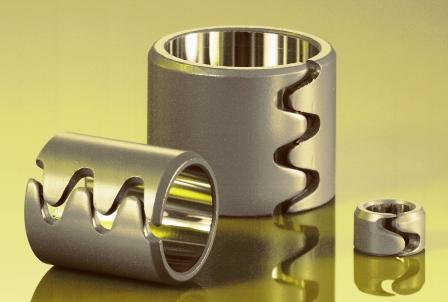 Precision Spring Bushings, Form 3 with Grease Grooves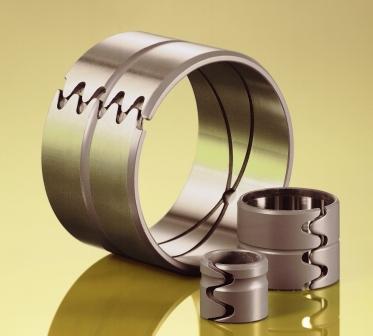 Application of Connex® Spring Bushings
Properties of the Connex® Spring Bushings
Seating Capacity/Insertion Force
Bearing Load Calculations for Connex® Spring Bushings
Connex® Spring Bushings Form 1...cold rolled with finished ends- Material: AISI 6150
Connex® Spring Bushings Special Options