CONNEX Spring Pins precisely position the cast parts of hydraulic rotor pumps. Relatively long pin bores increase diameter tolerances, and that cuts costs. No axial travel assures precise position, and pins actually seat better over time. Plus, CONNEX spring pins are much easier to handle during asembly than solid pins.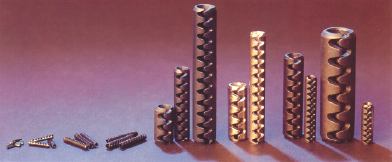 The combination of the radial-acting spring force and the tangential force produced by the toothed slot increases the contact pressure between the pin bore and the pin. And that pressure is why you buy a spring pin.
Improved seating capacity
The axial tension produced by staggered teeth allows larger tolerance in the bore for cost-saving manufacturing and assembly. Designed for heavy loads, vibration-resistant CONNEX Spring Pins deliver uniform shear strength in all directions- unlike straight slotted pins.
Designed and manufactured for the most demanding applications